IO VIAGGIO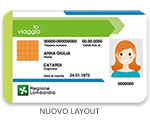 WHERE TO BUY IT

ONLINE ON THE WEBSITE OR ON THE APP

TYPES OF RAIL PASSES YOU CAN LOAD

Trenord pass

Integrated pass STIBM

Integrated pass Trenomilano

Integrated pass Trenocittà

Integrated pass IO VIAGGIO in Provincia

Integrated pass IO VIAGGIO in Lombardia

Cross-border travel pass Lombardia - Canton Ticino

DEDICATED PROFILES

Based on the date of birth indicated when purchasing the card, the system automatically assigns the corresponding profile that allows you to load the discounted STIBM Under 26 or Over 65 season tickets

PRICE

The IO VIAGGIO CARD costs 10€

VALIDITY

It is valid for 4 years from the date of purchase

FLEXIBILITY

allows you to load multiple subscriptions at the same time

SAFETY

It allows you to recover your rail pass in case of loss

EASINESS

The card is sent to the address chosen during the purchase phase within a maximum of 10 working days.

BENEFITS

For card holders, many discounts on admissions to museums and exhibitions, shows and services
"The ""I Travel with the Family"" applies to subscriptions:
• Monthly (Trenord, STIBM, Malpensa Express, TrenoCittà, Io Viaggio Ovunque in the Province/Lombardy).
• Yearly (Trenord, STIBM, Malpensa Express, Io Viaggio Ovunque in Lombardia).
Remember that:
• Discounts and free tickets apply to season tickets that have the same time validity, even if issued by different transport companies;
• The discount and the free pass apply to the cheapest subscription;
• The discount cannot be combined with other discounts (eg student passes).
To take part in the promotion, simply fill in the appropriate season ticket form and deliver it to the ticket offices, who will issue the discounted season ticket for your child/children.
More information is available on the page "travelling with the family"
It is not possible to purchase the annual subscription online if the expiry date of the card is prior to the expiry of the required subscription.
To activate your subscription, place the card on the validators or turnstiles enabled in the station chosen during the purchase phase, or use the DABs (Automatic Ticket Machines) present in the stations of the section relating to the subscription.
The operation can be carried out starting the day after the purchase and within 5 days for monthly or annual subscriptions and 3 days for weeklies.
If it has not been possible to activate the pass within the foreseen time frame, simply go to any Trenord Ticket Office or to the My Link Point assistance points in Milan Cadorna and Milan Porta Garibaldi, with the card and the receipt for payment of the travel ticket. Here our staff will activate the subscription on your card.